Defra announced this morning that the targets for 2024 will be as recently published in a Northern Ireland Statutory Instrument. All the targets remain the same as in 2022 and 2023 apart from wood and the overall recycling target.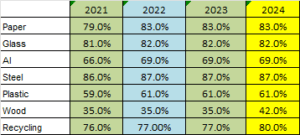 This is likely to have a significant impact on PRN prices for next year that may also impact on this year.
The Q3 data indicated a likely significant surplus of recycling across all materials in relation to the amount required to meet this year's targets. The recently published monthly data indicated that Q4 was likely to follow Q3 in showing strong results, especially for plastic and together, suggest that there will be high levels of December carry forward tonnage. With flat targets, this will see a likely reduction in next year's obligation compared to this year and if recycling continues at current levels, a likely collapse in PRN prices for the higher cost materials.
Of course there are factors that could alter the dynamics of this equation. There are strong market concerns that current levels of recycling for plastic in particular, are due to significant fraud in the system. Rumours of illegal exports to Turkey, of imported material being exported for PRNs, of false paperwork for non-existent tonnage and other scams abound. These are incentivised by high PRN prices and could dissipate if PRN prices collapse. The EA is also tightening up on accreditation and on audits with a number of investigations known to be in progress.
All in all, it suggests a rollercoaster year ahead, the last year under the 2007 regulations under current plans although of course, a new Environment Secretary and a general election and potential change in goovernment could see that all change.